I know I promised a post last evening, but I was feeling awful, and didn't want to have to deal with uploading the pictures, transferring them to both computers, then have to upload them to blogger......I *finally* caught that awful bug thats going around......thankfully I was ok yesterday morning, because I had Critterland (the 3-5 year old class) and those kids have all been through it at least once already. I'm sure their mothers would not have appreciated me passing it on to them again! lol Today I've had a sore throat, head ache, and am achy pretty much all over, and Mom has been the same, which isn't good! She bought some tea for sore throats, but of course it has some herbs in it that she has to avoid because of being pregnant, so she's downing Chai Spice tea instead, which has helped my sore throat as well. :) We also got some more Vitamin C, which we'd been out of for awhile (which is probably why we all are getting sick!) and some regular multi-vitamins.......we probably should have gotten peppermints to suck as well, but we were trying to hurry back home so we didn't think to get any.
Ok, enough talk about sickness! :) Here's some pictures I (and Moriah took the ones I am in) took yesterday.
My sweet, adorable little sister Karah! :) She and I went picking daffodils in our yard yesterday afternoon, and she was more than a little willing to pose for a picture. ;) She's a very willing (and cute!) little model for a three year old....sometimes she'll bring me the camera and beg me to take her picture! lol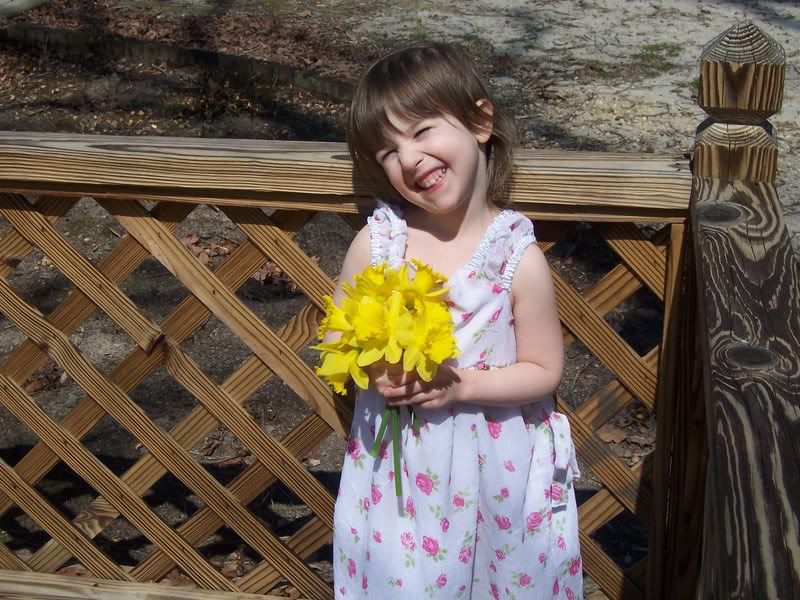 Moriah and I trained with Buddy for a little while after Karah and I picked flowers......since I had the camera I figured I'd let you see how he does. :) Here, Moriah is having him lay down and stay, and apparently he was very happy. :) He was listening and obeying very well, and was definitely enjoying all the camera attention! ;)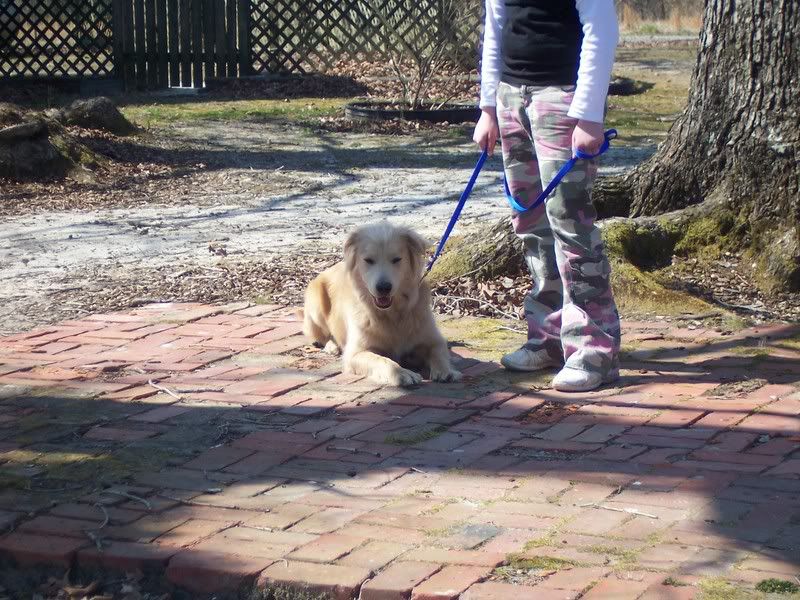 Still laying down, and I think he was watching a fly.....he likes to jump up and try to catch flies with his mouth.....not a very appetizing snack!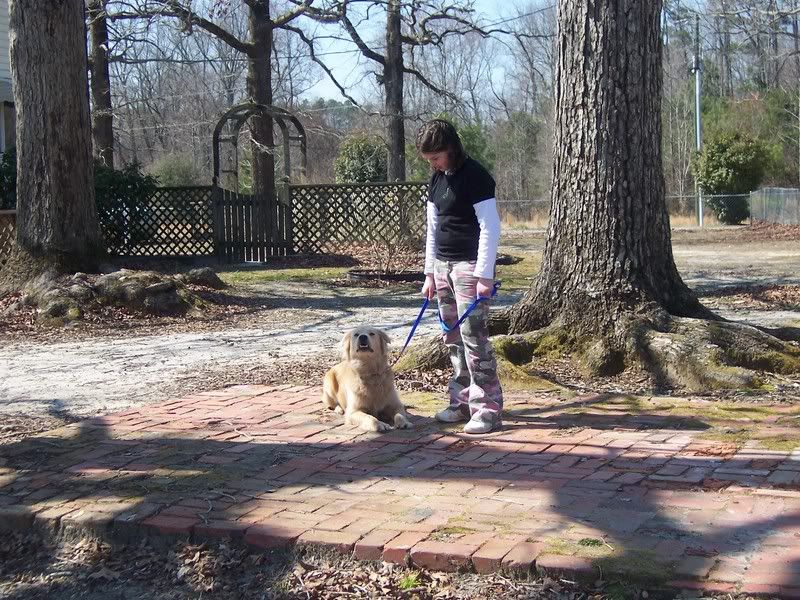 My turn to train with him......sitting....and Karah decided to get in on it too, by walking around him so he'd have distractions, which he's gotten very good at ignoring. :) (that's my favorite skirt!! *smiles*)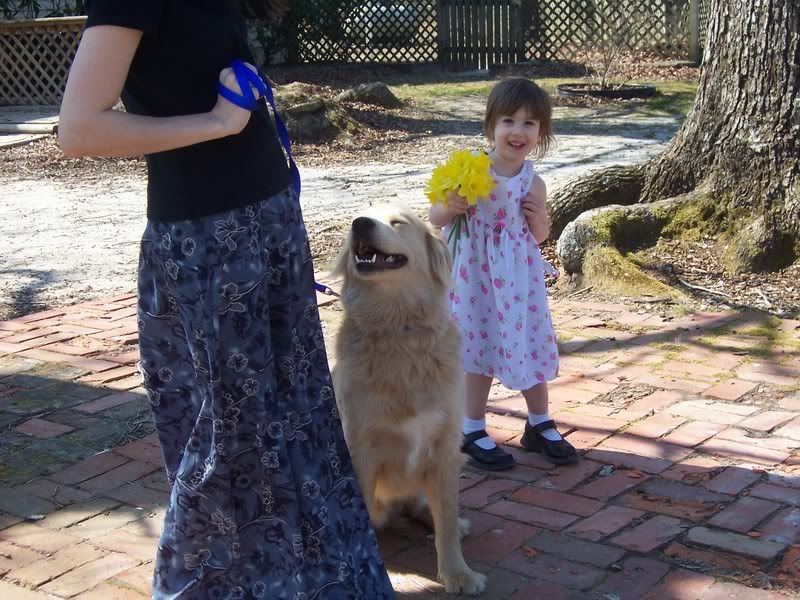 Still sitting........he's a very photogenic dog! If only I had a cat....I could do portaits of him like the ones on our calendar! lol :)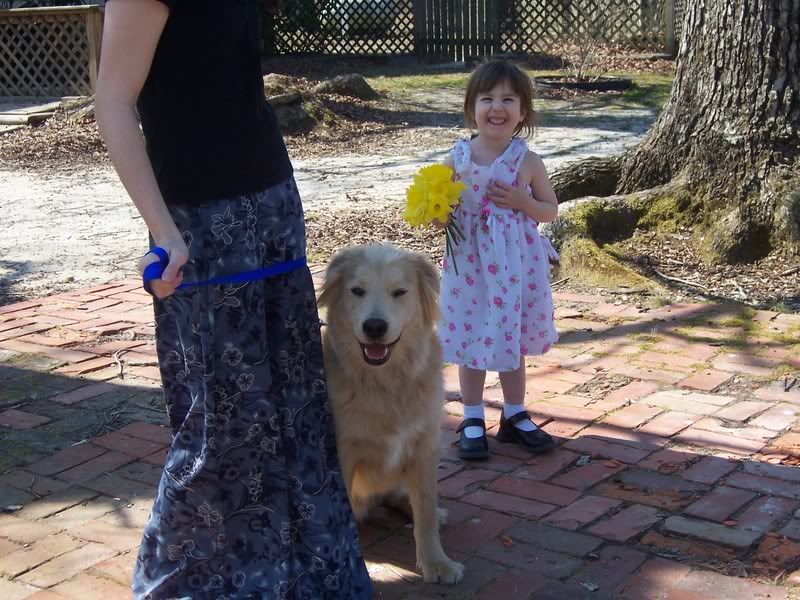 Then I had him lay down and stay......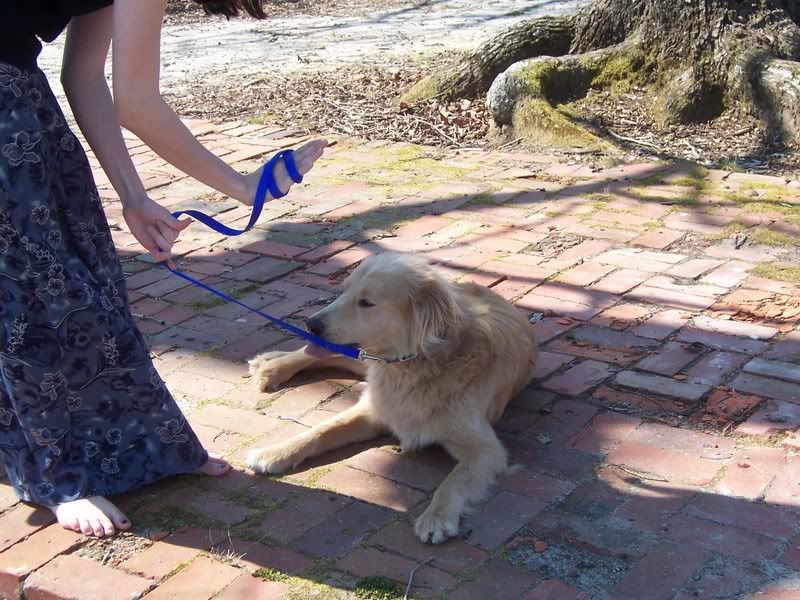 Laying down still, and loving the attention. :)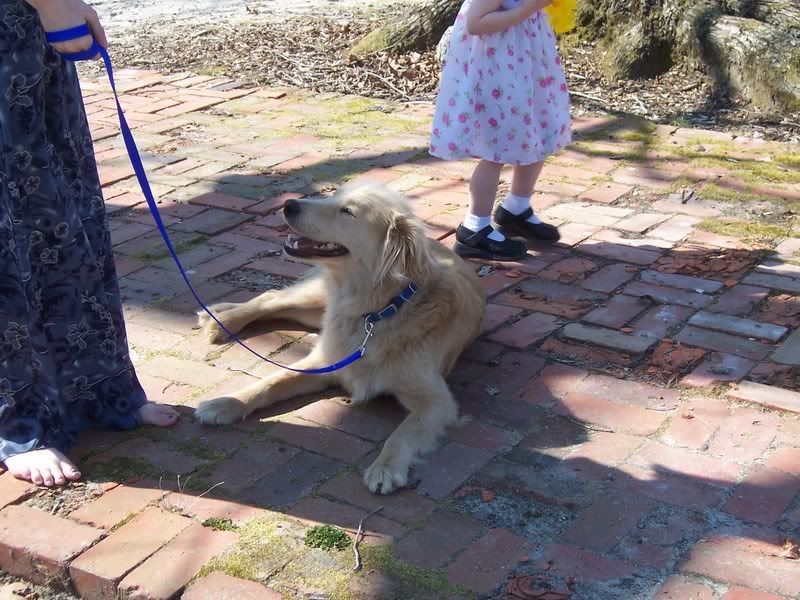 Me, Buddy, and Karah...the quality of this one isn't the best, but oh well.... :)
Hope you enjoyed the pictures! :) Here's a verse for today:
"For the Lord God is a sun and shield; the Lord bestows favor and honor; no good thing does He withhold from those whose walk is blameless."
Psalms 84:11